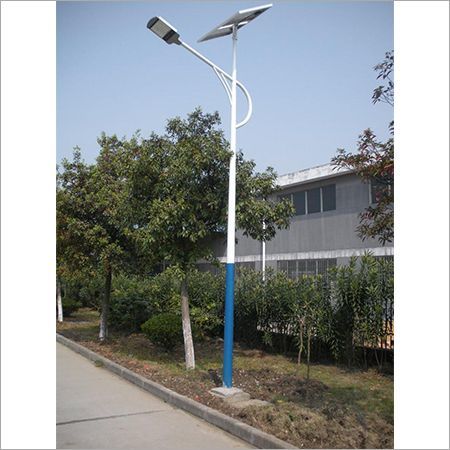 Solar Street Lights
Product Code : SSL 15
Product Description
Solar Street Lights
We are presenting qualitative range of Solar Street Lights that is made up of tested quality materials & components. These lights are suitable for the night time as it provides lightening to the streets. Available in different specifications, these street lights are weather resistant and acclaimed among our clients for their superior finish and excellent illumination. These Solar Street Lights consist of high quality SMF dry battery, LED source and crystalline solar panel.
NINE STAR SYSTEMS is manufacturing Solar Street Lights which are well-designed to illuminate large areas with the highest intensity of light. These are used for commercial quality lighting systems, residential streets, parking lots and security lighting using high quality of solar systems.

Offers a wide variety of solar lighting configurations and styles to meet your specific needs. The system will be configured according to the environmental conditions of the installation site as well as your specific requirements.

In Solar Street Light we offer MNRE & Govt. Approved Solar Material In every segment. We are giving you high quality based solar Panel and Battery systems with high extended Electronics circuit parts. We offer also customize Solar Applications in both of Industrial and Rural segment for better performance. We have good R&D Support to achieve extra ordinary success in our project.

Applications:

Security and safety lighting
Rural area lighting
Park lighting
Parking lot lighting
Parkway lighting
Walkway lighting
Street lighting
Transit Lighting
Outdoor area lighting
Military and civil security and so on
The costs of trenching and installing underground wiring often make a solar street lighting system an economically feasible lower cost option.
Technical Specifications:
Type 1: Low powered Solar Street Light


| | | | | | |
| --- | --- | --- | --- | --- | --- |
| Units | 11W CFL (MNRE Approved) | 6 LED | 9 LED | 12LED | 18 LED |
| Total Power (W) | 11 W | 7.2 W | 11 W | 14 W | 21.8 W |
| Input Voltage (DC) | 12 V | 12 V | 12 V | 12 V | 12 V |
| Total Lumens | 900 | 840 | 1260 | 1680 | 2520 |
| Lux Analysis (at 4 meter) | 12-14 | 10-12 | 14-16 | 18-20 | 24-30 |
| Area of coverage (in radius) | 15 feet | 15 feet | 20 feet | 30 feet | Above 40 feet |
| LED Life (Hours) | 12000 Hours | 50000 Hours | 50000 Hours | 50000 Hours | 50000 Hours |
| Grade | IP 55 | IP 65 | IP 65 | IP 65 | IP 65 |
| Material | Aluminum Pressure die-cast | Aluminum Pressure die-cast | Aluminum Pressure die-cast | Aluminum Pressure die-cast | Aluminum Pressure die-cast |
| LED Brand | Oshram | Oshram | Oshram | Oshram | Oshram |
| Type of Controller | Micro controller base | Micro controller base | Micro controller base | Micro controller base | Micro controller base |
| Solar Panel Details | 74W | 30W | 40W | 50W | 75W |
| Battery Details (C10 tubular) | 12V 75 Ah | 12V 26 Ah | 12V 42 Ah | 12V 42 Ah | 12V 65 Ah |
| M.S./G.I. Pole Size | 5 meter | 15 feet | 15 feet | 15 feet | 20 feet |
Type 2: High powered Solar Street Light


| | | | | | |
| --- | --- | --- | --- | --- | --- |
| Units | 24 LED | 30 LED | 36 LED | 48 LED | 60 LED |
| Total Power (W) | 28 W | 36 W | 44 W | 58 W | 72 W |
| Input Voltage (DC) | 12 V | 12 V | 12 V | 12 V | 12 V |
| Total Lumens | 3120 | 3900 | 4680 | 6240 | 7800 |
| Lux Analysis (at 4 meter) | 30 | 36 | 50 | 60 | 70 |
| Area of coverage (in radius) | Above 50 feet | Above 60 feet | Above 70 feet | 80 feet | >80 feet |
| LED Life (Hours) | 50000 Hours | 50000 Hours | 50000 Hours | 50000 Hours | 50000 Hours |
| Grade | IP 65 | IP 65 | IP 65 | IP 65 | IP 65 |
| Material | Aluminum Pressure die-cast | Aluminum Pressure die-cast | Aluminum Pressure die-cast | Aluminum Pressure die-cast | Aluminum Pressure die-cast |
| LED Brand | Oshram | Oshram | Oshram | Oshram | Oshram |
| Type of Controller | Micro controller base | Micro controller base | Micro controller base | Micro controller base | Micro controller base |
| Dimming facility | Available on demand | Available on demand | Available on demand | Available on demand | Available on demand |
| Solar Panel Details | 100W | 150W | 180W | 200W (100W x 2) | 220W(110W x 2) |
| Battery Details (Okaya/Exide/Amron or equivalent ) | 12V 100 Ah | 12V 120 Ah | 12V 150 Ah | 12V 150 Ah | 12V 150 Ah |
| M.S./G.I. Pole Size | 20 feet | 20 feet | 20 feet | 25 feet | 25 feet |
Contact Us
B-62, Gidc, Sector-25, Electronics Estate, Gandhinagar, Gujarat, 382024, India
Phone :+919945732493