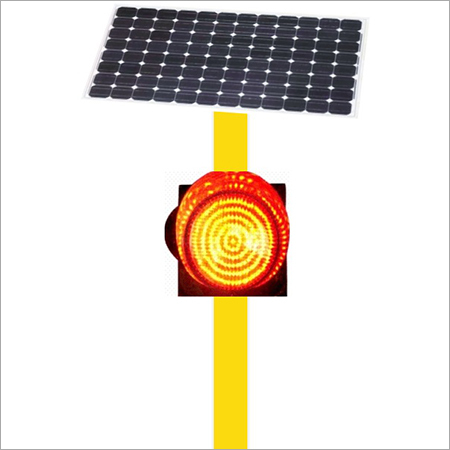 Solar Blinkers
Product Code : 14
Product Description
Used for highway indication applications, the Solar Blinkers offered by us are known for their self sufficiency owing to the use of solar panels. The blinkers can be seen from far away and can be used as warning lights. Made using the finest quality components and materials, the blinkers are today among the most sought after in the market and have become known for their long service life and minimal need for maintenance. Today, the blinker is being used in national highways and construction sites across the nation owing to its high reliability and cost effective pricing.

Solar blinker is a best solar product which are very well applicable in highway flasher and highway indication applications. LED blinker light makes new trend of road safety since 10 years and all safety departments are very well accepted this trends. By the helps of solar we create a new look of LED blinker as a solar blinker, the most popular benefits is no any requirement of electric light and therefore every one can use at any site very easily and get more benefits from this products. In mountains, turning bumps and traffic signal lights have very well applications of solar blinker light. Solar blinker is much applicable and useful for indication, array design, as guideline indications also. It helps to stops much accidental activity and also right for pathway and also for bump indications.

Features:
Assembled in any location
LED Beacons – Long life with Low Power consumption 8" or 10"
Virtually Maintenance Free Design
Complete System Packages with Poles
10 Year Limited Warranty solar Modules
Long Life – Deep Cycle – Maintenance Batteries
MNRE Compliant Components
Applications
24 Hour Flashing Beacon Systems
Speed Awareness Displays
School Zone flashing Beacon Systems
City Entrance / Exit warning Beacons
Intersection / Crosswalk Warning Work Zones
Sharp Cure Warning
Technical specifications

Type of unit

Model-9SS/12SBL

Model-9ss/24SBL

Solar Module type

Lamp Diameter (mm)

Pole Height

Protection

Illuminant

Luminous Intensity

Chromacity

Color

Operational Voltage

Autonomy




1x10Wp

200 / 250 Approx.

4.5 meters

IP – 66, complies with

LED Array

Amber / RED/green

As per VTCSH standard

Amber / RED/green

12VDC

12 hours




1x25Wp

200 / 250 Approx.

4.5 meters

IP – 66, complies with

LED Array

Amber / RED/green

As per VTCSH standard

Amber / RED/green

12VDC

24 hours



Solar Power Plant:
A great way to save lots of money on your electric bill each year is to install solar PV panels. Solar panels use energy from the sun to power your home. This renewable energy resource will reduce your electric expenses and also help to save the environment. Solar panels require a moderate one time investment; however, they usually pay for themselves in five years or less. Due to their increase in popularity, installation expenses have decreased by almost 40% in the past few years and the government provides handsome subsidies for approved projects.

As a professional solar photovoltaic system supplier, we can offer grid connected solar PV systems, off grid solar PV systems, solar lighting projects, rooftop solar PV systems, building integrated PV systems, etc. We utilize high quality solar modules, inverters, controllers and storage batteries in the building of solar photovoltaic systems and all our solar photovoltaic systems are designed in consideration of environmental requirement, load requirement, network access way, and other factors.

Solar Roof-top Power plant (Grid interactive system)

Solar Panels
Charge controllers
Battery bank
Interactive inverter
Main switch box
Consumer loads
Power meter
utility Service
Backup generator
Grid connected solar photovoltaic system is a kind of electrical power generating system that can convert solar radiant energy to electric energy via solar photovoltaic modules. This grid interactive solar PV system is connected with public power system. Our grid connected solar photovoltaic system is mainly made up of photovoltaic array and smart, grid interactive inverter, etc.
Off Grid system
Solar Panels
Charge controllers
Battery bank
inverter
Main switch box
Consumer loads
Contact Us
B-62, Gidc, Sector-25, Electronics Estate, Gandhinagar, Gujarat, 382024, India
Phone :+919945732493