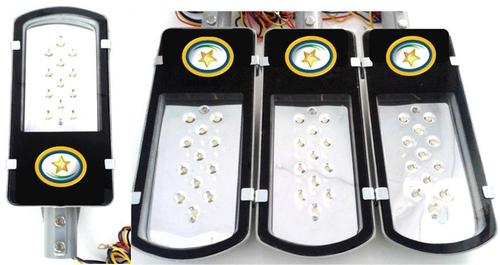 LED Street Light Fixtures
Product Code : 15
Product Description
We offer LED Street Light Fixtures that are today being used to light streets during night time. The fixtures are manufactured using highly durable materials and precision engineered components sourced from certified vendors. The fixtures are resistant to rust and last for many years owing to which buyers get the most bang for the buck. Furthermore, as a result of thorough testing during various phases of manufacture, the fixtures are free from defects and in keeping with international quality standards.

LED street Light Fixtures

Features:
IP 65 whether proof enclosure

Aluminum pressure die-casting material

Fully temperature conduction design

Automatic dusk to down operation and also in AC power Supply option

Toughen glass on the head of enclosure which give them better strength and attractive shape and design

Micro controller based controller with PWM based MOSFET technology

Automatic Dusk to down application

Water proof masking PCB to avoid moisture and corrosion

Reverse polarity adjustment and reverse current protection

Constant current based LED driver

Good heat dissipation in circuit

Advantages:

Low power consumption and long and predictable lifetime.
The lifetime of LED street lights is usually 10 to 15 years, three times the life of current technologies adopted. LEDs also have low maintenance cost.
Dimming

LEDs can be dimmed when less street lighting is needed, such as late nights and early mornings.

Small package size

More accurate color rendering. The color rendering index is the ability of a light source to correctly reproduce the colors of the objects in comparison to an ideal light source.
Unlike fluorescent bulbs, which take time to heat up once switched on, LEDs turn on instantly, and do not have a problem restarting immediately after being turned off (hot ignition).
RoHS compliance LEDs don't contain Hg/Pb and don't emit poisonous gases.
Less attractive to nocturnal insects
Insects are sensitive to the UV-blue and green region of the light spectrum. Nocturnal insects are attracted to the emission of UV-blue and green light from conventional light sources. White LEDs, however, emit light in a small peak in the blue range and smaller in the green range, so nocturnal insects are less attracted to such light sources.
Easy to design non-glare lighting equipment
Most LED street lights have a lens on the LED panel, which is designed to cast its light in a rectangular pattern, an advantage compared to traditional street lights, which typically have a reflector on the back side of a high-pressure sodium lamp. In this case much of the luminance of the light is lost and produces light pollution in the air and surrounding environment. Such street lights can also cause glare for drivers and pedestrians.
Higher light output even at low temperatures

Technical parameters & commercial offer
Type 1: Low powered LED Street Light
| | | | | | |
| --- | --- | --- | --- | --- | --- |
| Units | 6 LED | 9 LED | 12 LED | 15LED | 18 LED |
| Total Power (W) | 7.2 W | 11 W | 14 W | 14 W/18W | 21.8 W |
| Input Voltage (DC) | 12 V/230VAC | 12 V/230VAC | 12 V/230VAC | 12 V/230VAC | 12 V/230VAC |
| Total Lumens | 840 | 1260 | 1680 | 1950 | 2520 |
| Lux Analysis (at 4 meter) | 10-12 | 14-16 | 18-20 | 18-20 | 24-30 |
| Area of coverage (in radius) | 15 feet | 20 feet | 25-30 feet | 30 feet | Above 40 feet |
| LED Life (Hours) | 50000 Hours | 50000 Hours | 50000 Hours | 50000 Hours | 50000 Hours |
| Grade | IP 65 | IP 65 | IP 65 | IP 65 | IP 65 |
| Material | Aluminum Pressure die-cast | Aluminum Pressure die-cast | Aluminum Pressure die-cast | Aluminum Pressure die-cast | Aluminum Pressure die-cast |
| Reflector Sheet | 0.5 mm | 0.5 mm | 0.5 mm | 0.5 mm | 0.5 mm |
| LED Brand | Samsung/oshram | Samsung/oshram | Samsung/oshram | Samsung oshram | Samsung/oshram |
| Type of Controller | Micro controller base | Micro controller base | Micro controller base | Micro controller base | Micro controller base |
Type 2: High powered LED Street Light
| | | | | | |
| --- | --- | --- | --- | --- | --- |
| Units | 24 LED | 30 LED | 36 LED | 48 LED | 60 LED |
| Total Power (W) | 28 W | 36 W | 44 W | 58 W | 72 W |
| Input Voltage (DC) | 12 V/230VAC | 12 V/230VAC | 12 V/230VAC | 12 V/230VAC | 12 V/230VAC |
| Total Lumens | 3120 | 3900 | 4680 | 6240 | 7800 |
| Lux Analysis (at 4 meter) | 30 | 36 | 50 | 60 | 70 |
| Area of coverage (in radius) | Above 50 feet | Above 60 feet | Above 70 feet | 80 feet | >80 feet |
| LED Life (Hours) | 50000 Hours | 50000 Hours | 50000 Hours | 50000 Hours | 50000 Hours |
| Grade | IP 65 | IP 65 | IP 65 | IP 65 | IP 65 |
| Material | Aluminum Pressure die-cast | Aluminum Pressure die-cast | Aluminum Pressure die-cast | Aluminum Pressure die-cast | Aluminum Pressure die-cast |
| Reflector Sheet | 0.5 mm | 0.5 mm | 0.5 mm | 0.5 mm | 0.5 mm |
| LED Brand | Samsung/ oshram | Samsung/ oshram | Samsung/ oshram | Samsung/ oshram | Samsung/ oshram |
| Type of Controller | Micro controller base | Micro controller base | Micro controller base | Micro controller base | Micro controller base |
Contact Us
B-62, Gidc, Sector-25, Electronics Estate, Gandhinagar, Gujarat, 382024, India
Phone :+919945732493