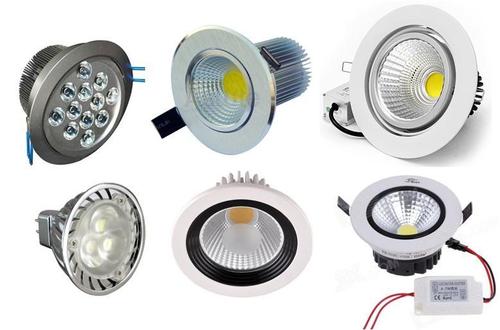 LED Down Light
Product Code : 17
Product Description
The LED Down Light we offer is known for its superior build quality and reasonable pricing owing to which it has emerged as a popular choice in the market. The light is designed by a team of experts who ensure that it delivers unrivaled performance and consumes minimal power to do so. Built using the finest quality components and raw materials, the light lasts for years and is not prone to breakdown. Furthermore, the light undergoes a series of quality checks in order to make certain that it is free from defects.

Features:
IP 54 whether proof enclosure
Aluminum pressure die-casting material
Fully temperature conduction design
Toughen glass on the head of enclosure which give them better strength and attractive shape and design
Micro controller based controller with PWM based MOSFET technology
Water proof masking PCB to avoid moisture and corrosion
Reverse polarity adjustment and reverse current protection
Constant current based LED driver
Good heat dissipation in circuit
Advantages:

Low power consumption and long and predictable lifetime.
The lifetime of LED street lights is usually 10 to 15 years, three times the life of current technologies adopted. LEDs also have low maintenance cost.
More accurate color rendering. The color rendering index is the ability of a light source to correctly reproduce the colors of the objects in comparison to an ideal light source.

Unlike fluorescent bulbs, which take time to heat up once switched on, LEDs turn on instantly, and do not have a problem restarting immediately after being turned off (hot ignition).

RoHS compliance LEDs don't contain Hg/Pb and don't emit poisonous gases.
Less attractive to nocturnal insects
Insects are sensitive to the UV-blue and green region of the light spectrum. Nocturnal insects are attracted to the emission of UV-blue and green light from conventional light sources. White LEDs, however, emit light in a small peak in the blue range and smaller in the green range, so nocturnal insects are less attracted to such light sources.

Easy to design non-glare lighting equipment
Most LED street lights have a lens on the LED panel, which is designed to cast its light in a rectangular pattern, an advantage compared to traditional street lights, which typically have a reflector on the back side of a high-pressure sodium lamp. In this case much of the luminance of the light is lost and produces light pollution in the air and surrounding environment. Such street lights can also cause glare for drivers and pedestrians.
Higher light output even at low temperatures
Technical parameters & commercial offer
Type 1: LED Panel Light
| | | | | | | |
| --- | --- | --- | --- | --- | --- | --- |
| Units | 6W | 8W | 12W | 18W | 24W | 36W |
| Input Voltage (DC) | 110V-260VAC | 110V-260VAC | 110V-260VAC | 110V-260VAC | 110V-260VAC | 110V-260VAC |
| Total Lumens | 660 | 880 | 1320 | 1980 | 2640 | 3960 |
| Area of coverage (in radius) | 15 feet | 20 feet | 25-30 feet | 30 feet | Above 40 feet | Above 40 feet |
| LED Life (Hours) | 50000 Hours | 50000 Hours | 50000 Hours | 50000 Hours | 50000 Hours | 50000 Hours |
| Grade | IP 65 | IP 65 | IP 65 | IP 65 | IP 65 | IP 65 |
| Material | Aluminum Pressure die-cast | Aluminum Pressure die-cast | Aluminum Pressure die-cast | Aluminum Pressure die-cast | Aluminum Pressure die-cast | Aluminum Pressure die-cast |
| Size | 115 mm x 115 mm | 150 mm x 150 mm | 200 mm x 200 mm | 295 mm x 295 mm | 295 mm x 295 mm | 600 mm x 600 mm |
| LED Brand | Samsung/ oshram | Samsung/ oshram | Samsung/ oshram | Samsung/ oshram | Samsung/ oshram | Samsung/ oshram |
| Type of Driver | Constant current base | Constant current base | Constant current base | Constant current base | Constant current base | Constant current base |
1. LED down lights
2. LED Par Lights
3. LED under water Lights
4. LED COB lights
5. LED surface down lights

Contact Us
B-62, Gidc, Sector-25, Electronics Estate, Gandhinagar, Gujarat, 382024, India
Phone :+919945732493