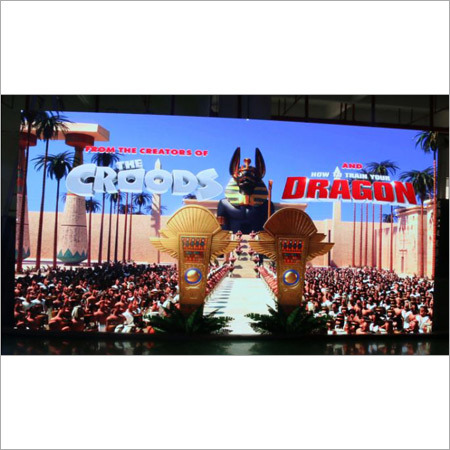 Indoor LED Display Screen (Rental Series)
Product Code : 02
Product Description
The Indoor LED Display Screen Rental Series we offer is today used by various event management teams in order to ensure that viewers are provided with a clear picture of events. Designed to be used in outdoor settings, the screen is built using highly durable materials and precision engineered components that reduce the chances of breakdown and the need for regular maintenance. The screen is capable of displaying images with high brightness and clarity owing to which pictures can be viewed with ease even in direct sunlight. To ensure that buyers are delivered with only the very best, the screen is checked along various quality parameters by a team of quality controllers.

Ovel LED is an high quality indoor stage rental led display, led video wall manufacturer and supplier in China. We are always dedicated to provide the latest stage rental Led display solutions, ODM&OEM service. Welcome whole sales rental led display, rental video wall

Ovel series rental led display with unique modular and front maintenance structure design, concentrated on reducing maintenance trouble.Aluminium Die Casting technology help to achieve a high connection precision. Fantasy series with 8Kg/Panel and 500 x 500 x 80 mm only make it portable and easy to install, dismantle. Different models are available

Features

Ultra thin & light weight (only 8Kg/panel), portable handy
Die-casting aluminium cabinet design with high precision
Modular design, make it easy to maintain and replace
HD show without water ripple on program broadcasting
Easy to assemble & dismantle with fast locks on each cabinet
High gray level & good colour uniformity with brand IC, led lamp
Energy saving without fans design, exclusive natural cooling effect

Easy to replace and maintain with Front Service Structure, realizing time and labour saving. Just need two small wrenches and few seconds we can take the module out from the cabinet easily and quickly.
Design of Fantasy series rental led display are concentrated to pursue high definition and stability stage play effect brings us a visual feast.

High definition and contrast ratio
Compared with traditional white leds, pure black leds can obtain a better color uniformity and higher contrast ratio. Brand LED lamp with black body structure and black lamp mask provides 3000:1 contrast ratio, clearer and more bright-colored image.

The latest calibration Technology
Calibration during aging testing before packing and delivery to improve the color uniformity and
brightness.

Low brightness with high gray scale, more delicate display performance
Fantasy rental led display choose the updated control solution and high quality Driver IC to realize brightness and Gray scale adjustment automatically.The latest control solution support pixel-pixel brightness correction to boardcast realistic pictures.
Technical Specifications:
Model

Ovel RLS- 3

Ovel RLS- 3.91

Ovel RLS- 4.8

Ovel RLS- 6

Pixel Pitch

3mm

3.91 mm

4.8 mm

6 mm

LED Type

SMD 2020

SMD2020

SMD2020

SMD3528

Configuration

1R1G1B

1R1G1B

1R1G1B

1R1G1B

Module Size

192*96 mm

250*250 mm

250*250 mm

192*192 mm

Driving IC

MBI 5124

MBI 5124

MBI 5124

MBI 5124

Pixel Density

111111 pixel/㎡

65536 pixel/㎡

43264 pixel/㎡

25600 pixel/㎡

Refresh Rate

≥ 1920Hz

≥ 1920Hz

≥ 1920Hz

≥ 1920Hz

Gray Scale

16 Bit

16 Bit

16 Bit

16 Bit

Brightness

≥ 1200 cd/㎡

≥ 1200 cd/㎡

≥ 1200 cd/㎡

≥ 1500 cd/㎡

Scan Way

1/16

1/16

1/13

1/10

Frame Rate

50HZ~60HZ

50HZ~60HZ

50HZ~60HZ

50HZ~60HZ

Viewing Angle

H:140°, V:140°

H:140°, V:140°

H:140°, V:140°

H:140°, V:140°

Cabinet Resolution

128*128 Dots

128*128 Dots

104*104 Dots

80*80 Dots

Material

Die-casting Aluminium/ magnesium

Die-casting Aluminium/ magnesium

Die-casting Aluminium/ magnesium

Die-casting Aluminium/ magnesium

Cabinet Size

576*576*80mm

500*500*80mm

576*576*80mm

500*500*80mm

Cabinet Weight

9-10 Kg

8Kg

9-10 Kg

9-10 Kg

IP Rating

IP31

IP31

IP31

IP31

Max. Power Consumption

210W/Panel

210W/Panel

190W/Panel

130W/Panel

Avg. Power Consumption

70W/Panel

70W/Panel

65W/Panel

40W/Panel

Control System

Nova/Linsn

Nova/Linsn

Nova/Linsn

Nova/Linsn

Operation System

Window xp/7/8/10

Window xp/7/8/10

Window xp/7/8/10

Window xp/7/8/10

Working-Temperature

'-20℃~60℃

'-20℃~60℃

'-20℃~60℃

'-20℃~60℃

Working Humidity

10%~90% RH

10%~90% RH

10%~90% RH

10%~90% RH

Input Voltage

AC 110~220 V

(±5%)

AC 110~220 V

(±5%)

AC 110~220 V

(±5%)

AC 110~220 V

(±5%)

Blind spot rate

≤0.01%

≤0.01%

≤0.01%

≤0.01%

MTBF

35000 Hour

35000 Hour

35000 Hour

35000 Hour

Lifespan

100000 Hour

100000 Hour

100000 Hour

100000 Hour
Contact Us
B-62, Gidc, Sector-25, Electronics Estate, Gandhinagar, Gujarat, 382024, India
Phone :+919945732493